Forest Park community comes together to donate new batting cages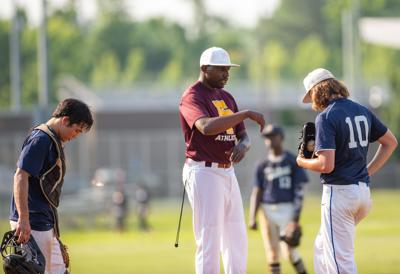 FOREST PARK – Forest Park High has been on the minimalist side of athletics for some years and a donation may help the baseball team this season.
How it all began was from a Facebook group founded by Cody McKinney and BJ McKinney, friends of Forest Park head baseball coach Josh Froneberger. His personal relationship with BJ dates back to his childhood.
"Cody is a younger brother of my best friend BJ and has been more active in the upbringing of baseball in the past couple seasons," Froneberger said. "He has noticed changes around the game that he loves and with the support of his brother and father DJ and Jody, they stepped out on faith and started a fundraiser and wanted to give back to their alma mater.
They were celebrating their fifth anniversary of their group and they decided to have everyone in the group donate a dollar or two to Forest Park High. The goal was to provide a baseball cage for the team.
"To provide a baseball bat and cage for the team since we have minimal resources at the school. This then got shared on somebody's page and it kind of went viral," Froneberger recalled. "I woke up the next morning and been tagged in a Facebook post regarding the baseball batting cage and I was astounded. I then shared it and got great feedback and saw that the community was really behind us."
The last time the Panthers team had a batting cage date back to the days when Froneberger played. Even then, it was 15-20 years old. Many schools have invested in cages or even shell turtles that are designed to keep balls from going into the street, they're basic items and having the community step in and help will be big for the Panthers going forward.
"Having a batting cage will have a great outlook on this season, as we will be able to work on specific hitting drills and mainly get reps in while doing stuff on the field as well," Froneberger said. "This is a leisure I'm sure every other school has and we have worked to do it but there's haven't been the funds available."
If the community is looking for the Panthers to pay them back, the way it will happen will be easy.
"Firstly, we can start winning. This community thrives on winning and to bring the community in, I know you have to win," Froneberger said. "We've done that, speaking of last year and with personal accolades that we gained, it has brought exposure to the program and we can repay the community by playing the game the right way and giving back to them.
In March we will be having a recreation day for Forest Park youth and now we want to make it bigger," he continued. "We wanted a big thing to show that Forest Park High School is reaching out to the community trying to make sure everyone knows about baseball as a whole and how it has revived this community in past and present."